JAMES BYRD, ALBERT SPAULDING, BERRY JOHNSON:
THE JOMO IN FLORIDA
Interview by Stetson Kennedy; recording by Robert Cook (August 19, 1939)
This is an extract from the original transcription notes accompanying a recording ("Record 7") made on August 19, 1939 in the office of the Aycock & Lindsey turpentine camp, Cross City, Florida. It is part of the Florida Folklife from the WPA Collections at the Library of Congress. The interview was conducted by Stetson Kennedy; the "operator" of the recrding machine was Roert Cook. The transcription summary, uncredited, was probably written by Kennedy.
The complete record contains three songs and some talking not relatd to conjure, transcriptions for which which is not included here. First, James Griffin sings two songs: "Worked All Summer Long" and "Right Back in Jain Again," then the members of The Dixie Four, a male quartet, are introduced: Ire Smith, age 28; L. G. Arnold, 25 Doc Choice, 34; S. T. Tatum, 26. They sing a jook joint song, "Poor Stranger Blues" and answer questions about jook joints. The final portion of the record concerns the jomo charm, a regional term for a mojo bag.
Because the interview subject used terms unfamiliar to modern readers and employed spellings not commonly found in the literature of hoodoo, a few explanatory notes have been added [in brackets].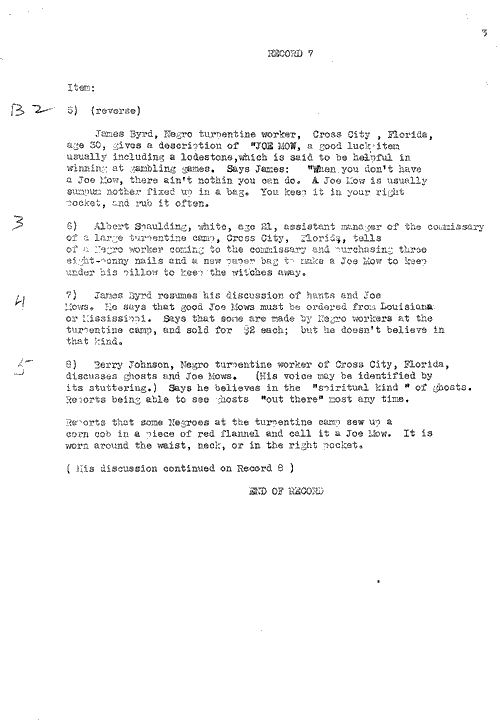 James Byrd, Negro turpentine worker, Cross City, Florida, age 30, gives a description of "JOE MOW," a good luck item usually including a lodestone, which is said to be helpful in winning at gambling games.
[Jomo is also variously spelled Joe Moore, jomoo, and joomoo -- and this definition is incomplete, for not all jomo charms contain lodestone and not all are used for luck in gambling. In fact, the term "jomo work" can also refer to harmful magical spells performed by an evil "jomo man"]
Says James: "When you don't have a Joe Mow, there ain't nothin you can do. A Joe Mow is usually sumpum nother fixed up in a bag. You keep it in your right pocket, and rub it often.
Albert Spaulding, white, age 21, assistant manager of the commissary of a large turpentine camp, Cross City, Florida, tells of a Negro worker coming to the commissary and purchasing three eight-penny nails and a new paper bag to make a Joe Mow to keep under his pillow to keep the witches away.
[The use of nails in a jomo is quite old. You can see a 1930s advertisement for an "Old Conjure Man's Hand" containg nails at the "Hoodoo in Theory and Practice" page on Mojo Hands. "To keep the witches away" by means of a charm under the pillow is another way of saying that this jomo is intened to protct afgainst hag-riding.]
James Byrd resumes his discussion of hants [haints: ghosts, spirits] and Joe Mows. He says that good Joe Mows must be ordered from Louisiana or Mississippi. Says that some are made by Negro workers at the turpentine camp, and sold for $2 each; but he doesn't believe in that kind.
Berry Johnson, Negro turpentine worker of Cross City, Florida, discusses ghosts and Joe Mows. (His voice may be identified by its stuttering.) Says he believes in the "spiritual kind" of ghosts. Reports being able to see ghosts "out there" most any time.
Reports that some Negroes at the turpentine camp sew up a corn cob in a piece of red flannel and call it a Joe Mow. It is worn around the waist, neck, or in the right pocket.
(His discussion continued on Record 8) [I have not been able to locate a transcription of Record 8.]
This material is reprinted from
The Library of Congress

Florida Folklife from the WPA Collections

accessed September 4th, 2006 at

http://memory.loc.gov/cgi-bin/query/r?ammem/flwpa:@field(DOCID+tt0026)#tt00260001