introduction | 19th century hoodoo | 20th century hoodoo | 21st century hoodoo

"THE HOODOO HIGHWAY":
BOTTLE SPELLS TO REVERSE WITCHCRAFT
IN LAFAYETTE, LA.
from The [Baton Rouge, LA] Advocate, Friday, September 3, 2004
I want to thank Meri (rootwomin) for bringing this article to my attention. It describes hoodoo bottle spells pulled out a river near Lafayette, Louisiana. Strange to say, as recently as 1998, i knew of an old traditional rootworker who lived right in Lafayette, and unless he has passed -- i truly wonder if this is his work.
The use of Cayenne Pepper in these bottle spells, as described below, marks them as "get away," reversing, or protection spells . This accords with the language quoted in the petitions, as well ("your spell by witchcraft is broken"). The "seeds" mentioned may be Grains of Paradise, Black Mustard, and/or Poppy seeds, all of which are used to make folks get away, act in a confused manner, or fail in their attempt to hurt someone they are trying to damage. More herb lore can be found in "Hoodoo Herb and Root Magic" by catherine yronwode.
Due to the limited two-week archiving protocol of the publisher (see below), a copy (or "vertical file clipping") is being hosted here, for the convenience of future researchers. Copyright and all typographical errors remain with the original copyright holder.
Also, i'd like to add a short personal note: I deplore the way the watershed projects manager and the professor mentioned in the article think they can "anthropologize" someone's work. I mean, how would they like it is we followed them around all day commenting on what *they* do? Not nice.
--------------------------------------------------------
Original URL: http://www.2theadvocate.com/stories/090304/new_hoodoo001.shtml

Friday, Sept. 3, 2004
Baton Rouge, La.

Bottles of hoodoo taken from Vermilion River
By KEVIN BLANCHARD
kblanchard@theadvocate.com
Acadiana bureau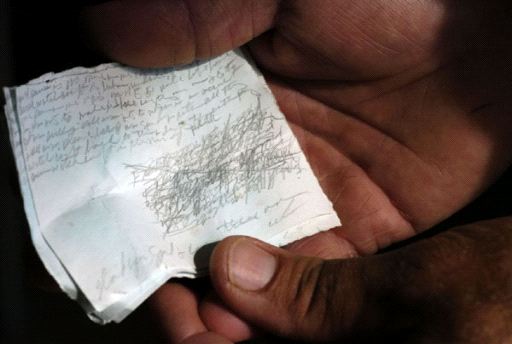 Advocate staff photo by Bryan Tuck
Bayou Vermilion District Watershed Projects Manager Paul LaHaye holds one of the spells, revealing the nearly illegible writing of the spells, some of it crossed out and unreadable.
LAFAYETTE -- Among the soda bottles and lost basketballs floating down the Vermilion River, there are things much odder and mysterious.
The Vermilion River could be called a one-way hoodoo highway.
Over the years, more than four dozen ordinary, little brown plastic prescription bottles have been found in the murky water -- each filled with blue or pink powder and strange, rambling spells meticulously written on scraps of paper.
Paul LaHaye, the watershed projects manager with the Bayou Vermilion District, oversees the collection of tons of debris pulled from the river each year.
Each time one of the brown bottles surfaces, LaHaye dries out the contents and places them in a plastic baggy or cardboard box labeled "Voodoo," that sits in his office.
Some of the district's workers won't pick up the bottles for fear of the "powerful magic," LaHaye said.
And while LaHaye isn't superstitious, he said he still tries to treat the items with respect.
"These are cultural artifacts," LaHaye said.
Inside each bottle are pieces of torn or folded paper containing tiny, nearly indecipherable cursive script, colored powder and sometimes cayenne pepper or seeds.
LaHaye has ventured to read some of the spells. A co-worker even started to help transcribe one of the more readable spells, but stopped when she started feeling nauseated, LaHaye said.
"Your power is no more on me ... your spell by witchcraft is broken ... undone, gone," one of the spells reads. "Please help us great mother. Send his witchcraft back to him and destroy him with his own witchcraft."
Most of them end, LaHaye said, with "Thank you spell for favors granted in the name of ..."
"There's a hoodoo out there for somebody," LaHaye said.
Most of the spells seem to be written in the same tiny handwriting. Each could have taken hours of labor, as sheets of paper were filled, then torn and folded, for each spell, LaHaye said.
It's likely that the spells were written by a practitioner of what academics classify as Southern Rootwork or Southern Hoodoo, said Ray Brassieur, a professor of anthropology at the University of Louisiana at Lafayette.
Brassieur cautioned against trying to track down the person writing the spells.
To pry into such a secret and personal agreement between client and practitioner -- in a way like a priest and confessor -- would be improper, Brassieur said.
The practice was famously documented in the South during the 1930s and 1940s by Harry Middleton Hyatt, Brassieur said.
The type of folk magic practiced involves "sympathetic magic," the idea that "whatever you do to that item, a like thing happens in reality," Brassieur said.
"Bottle" spells, like the ones being found in the Vermilion, are common, Brassieur said.
Part of the spell is placing the bottle into running water or tidal streams -- with their symbolic ebb and flow, Brassieur said.
The practice is not as unusual as some people may think, Brassieur said.
But finding evidence of the practice is "surprising," Brassieur said.
Brassieur said he's yet to study the spells in detail and will be careful when doing so -- in order to protect people's privacy.
Generally, people who seek out the help of a hoodoo practitioner are looking for help with a specific problem in their life that, for whatever reason, "regular channels" and institutions like medicine or attorneys aren't a possibility, Brassieur said.
Likely, most of the clients are poor, without financial means to find help otherwise, Brassieur said.
There's also a cultural and traditional aspect, he said.
"They were taught that this is the way to control the world," Brassieur said. "They're continuing those traditions."
LaHaye -- who's degree is in anthropology -- sees the hoodoo bottles as one more aspect of the Vermilion River's unique personality.
He said he'll keep the bottles at the office so that the unique practice can be studied and appreciated -- despite the nagging feeling that maybe the bottles are better left undisturbed, like King Tut's Tomb.
"It makes you suspicious" anytime something strange happens at work, LaHaye said. "Maybe it's more than coincidence."
---------
2theadvocate.com keeps a two week archive of online content.
*Note: All Advocate stories do not appear on 2theadvocate.com daily. Access to the complete Advocate archive is available online: The Advocate story archives, hosted by ProQuest
*Only stories for which The Advocate and WBRZ have permission to archive are available on both the Web site or in our database. Syndicated material, puzzles and most wire stories are not in the database or online.
Copyright &copy, 1992-2004, 2theadvocate.com, WBRZ, Louisiana Broadcasting LLC and The Advocate, Capital City Press LLC, All Rights Reserved.


Search All Lucky Mojo and Affiliated Sites!
You can search our sites for a single word (like archaeoastronomy, hoodoo, conjure, or clitoris), an exact phrase contained within quote marks (like "love spells", "spiritual supplies", "occult shop", "gambling luck", "Lucky Mojo bag", or "guardian angel"), or a name within quote marks (like "Blind Willie McTell", "Black Hawk", "Hoyt's Cologne", or "Frank Stokes"):

Did you like what you read here? Find it useful?
Then please click on the Paypal Secure Server logo and make a small
donation to catherine yronwode for the creation and maintenance of this site.

This website is part of a large domain that is organized into a number of
interlinked web sites, each with its own distinctive theme and look.
You are currently reading
SOUTHERN SPIRITS by cat yronwode .
Here are some other LUCKY MOJO web sites you can visit:

OCCULTISM, MAGIC SPELLS, MYSTICISM, RELIGION, SYMBOLISM
Hoodoo in Theory and Practice by cat yronwode: an introduction to African-American rootwork
Hoodoo Herb and Root Magic by cat yronwode:a materia magica of African-American conjure
Lucky W Amulet Archive by cat yronwode: an online museum of worldwide talismans and charms
Sacred Sex: essays and articles on tantra yoga, neo-tantra, karezza, sex magic, and sex worship
Sacred Landscape: essays and articles on archaeoastronomy and sacred geometry
Freemasonry for Women by cat yronwode: a history of mixed-gender Freemasonic lodges
The Lucky Mojo Esoteric Archive: captured internet text files on occult and spiritual topics
Lucky Mojo Usenet FAQ Archive:FAQs and REFs for occult and magical usenet newsgroups
Aleister Crowley Text Archive: a multitude of texts by an early 20th century occultist
Lucky Mojo Magic Spells Archives: love spells, money spells, luck spells, protection spells, and more
Free Love Spell Archive: love spells, attraction spells, sex magick, romance spells, and lust spells
Free Money Spell Archive: money spells, prosperity spells, and wealth spells for job and business
Free Protection Spell Archive: protection spells against witchcraft, jinxes, hexes, and the evil eye
Free Gambling Luck Spell Archive: lucky gambling spells for the lottery, casinos, and races

POPULAR CULTURE
Hoodoo and Blues Lyrics: transcriptions of blues songs about African-American folk magic
EaRhEaD!'S Syd Barrett Lyrics Site: lyrics by the founder of the Pink Floyd Sound
The Lesser Book of the Vishanti: Dr. Strange Comics as a magical system, by cat yronwode
The Spirit Checklist: a 1940s newspaper comic book by Will Eisner, indexed by cat yronwode
Fit to Print: collected weekly columns about comics and pop culture by cat yronwode
Eclipse Comics Index: a list of all Eclipse comics, albums, and trading cards

EDUCATION AND OUTREACH
Hoodoo Rootwork Correspondence Course with cat yronwode: 52 weekly lessons in book form
Hoodoo Conjure Training Workshops: hands-on rootwork classes, lectures, and seminars
Apprentice with catherine yronwode: personal 3-week training for qualified HRCC graduates
Lucky Mojo Community Forum: an online message board for our occult spiritual shop customers
Lucky Mojo Hoodoo Rootwork Hour Radio Show: learn free magic spells via podcast download
Lucky Mojo Videos: see video tours of the Lucky Mojo shop and get a glimpse of the spirit train
Lucky Mojo Publishing: practical spell books on world-wide folk magic and divination
Lucky Mojo Newsletter Archive: subscribe and receive discount coupons and free magick spells
LMC Radio Network: magical news, information, education, and entertainment for all!
Follow Us on Facebook: get company news and product updates as a Lucky Mojo Facebook Fan

ONLINE SHOPPING
The Lucky Mojo Curio Co.: spiritual supplies for hoodoo, magick, witchcraft, and conjure
Herb Magic: complete line of Lucky Mojo Herbs, Minerals, and Zoological Curios, with sample spells
Mystic Tea Room Gift Shop: antique, vintage, and contemporary fortune telling tea cups

PERSONAL SITES
catherine yronwode: the eclectic and eccentric author of many of the above web pages
nagasiva yronwode: nigris (333), nocTifer, lorax666, boboroshi, Troll Towelhead, !
Garden of Joy Blues: former 80 acre hippie commune near Birch Tree in the Missouri Ozarks
Liselotte Erlanger Glozer: illustrated articles on collectible vintage postcards
Jackie Payne: Shades of Blues: a San Francisco Bay Area blues singer

ADMINISTRATIVE
Lucky Mojo Site Map: the home page for the whole Lucky Mojo electron-pile
All the Pages: descriptive named links to about 1,000 top-level Lucky Mojo web pages
How to Contact Us: we welcome feedback and suggestions regarding maintenance of this site
Make a Donation: please send us a small Paypal donation to keep us in bandwidth and macs!

OTHER SITES OF INTEREST
Arcane Archive: thousands of archived Usenet posts on religion, magic, spell-casting, mysticism, and spirituality
Association of Independent Readers and Rootworkers: psychic reading, conjure, and hoodoo root doctor services
Candles and Curios: essays and articles on traditional African American conjure and folk magic, plus shopping
Crystal Silence League: a non-denominational site; post your prayers; pray for others; let others pray for you
Gospel of Satan: the story of Jesus and the angels, from the perspective of the God of this World
Hoodoo Psychics: connect online or call 1-888-4-HOODOO for instant readings now from a member of AIRR
Missionary Independent Spiritual Church: spirit-led, inter-faith; prayer-light services; Smallest Church in the World
Mystic Tea Room: tea leaf reading, teacup divination, and a museum of antique fortune telling cups
Satan Service: an archive presenting the theory, practice, and history of Satanism and Satanists
Southern Spirits: 19th and 20th century accounts of hoodoo, including ex-slave narratives & interviews
Spiritual Spells: lessons in folk magic and spell casting from an eclectic Wiccan perspective, plus shopping
Yronwode Home: personal pages of catherine yronwode and nagasiva yronwode, magical archivists
Yronwode Institution: the Yronwode Institution for the Preservation and Popularization of Indigenous Ethnomagicology