When Hoodoo Was Illegal: Henry B. Gottlieb and Twinz Co., 1956
Jump to navigation
Jump to search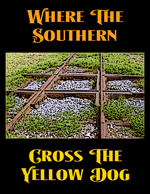 For a small monthly donation, my Patrons gain exclusive early access to this page in its entirety, with high-res graphics and full commentary. Patreon subscribers also have access to my Private Patreon Forum, where we can discuss my research projects on the topics of divination, folklore, and magic. After one year, this page will go public.
* Patreon Date: October 7th, 2021.
* Public Date: October 7th, 2022.
Please tell your friends that they can subscribe to my Patreon stream for $2.00 per week:
To discuss this and other Where the Southern Cross the Yellow Dog with me, join my private Patreon Forum here:
Support Where the Southern Cross the Yellow Dog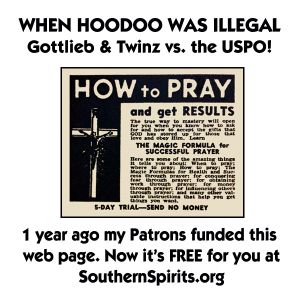 All of the material you have access to here -- the instructive booklets, the nostalgic postcards, the boldly graphic ephemera, and all of the historical information researched and shared from the mind of the woman who is making it all happen -- can easily fit into one 8 x 10 foot room in an old Victorian farmhouse, but you would never see it without the investment of the time it takes to produce such a site and the caloric input such a site requires in the form of food for the writer, graphic designer, and database manager, as well as the US currency needed to pay for the computers, software applications, scanners, electricity, and internet connectivity that bring it out of that little room and into the world.
So, as you can see, this site is the darling of many, and it is growing at a rapid rate ... but although it is "free," there also is a cost. The financial support of my Patreon subscribers -- my Patrons -- underwrites this cost.
---
WHEN HOODOO WAS ILLEGAL:
Henry B. Gottlieb and Twinz Co. versus The United States Post Office, 1956
In 1955, the Unites States Post Office found Henry B. Gottlieb guilty of perpetrating mail faud because he ran advertisements for traditional hoodoo supplies in a group of black-owned newspapers around the country. This was during the time that the Civil Rights Movement was increasing in power, but racially segregated newspapers were still the norm.
Gottlieb did not give up, but counter-claimed that he did not commit fraud and that the Post Office had overstepped its bounds. What follows here is a record of Gottlieb's attempt to reverse the decision, which proved to be unsuccessful.
This page offers a brief but shocking look at the lengths that the United States government went to, during the 20th century, in its campaign to suppress African-American folk magic and religion. Along the way we will learn the names of many products that Gottlieb made, some products manufactured by other makers, and the titles of books he distributed that were popular -- and forbidden by law to be sent through the mails -- during the mid 1950s.
[Because this is a lengthy document, i will insert some explanatory comments in italics, here and there. -- cat]
GOTTLIEB v. SCHAFFER
141 F.Supp. 7 (1956)

Henry B. GOTTLIEB, doing business as

Twinz Co.;

Twinz;

Twinz Company;

Perfume House;

Staco Co.;

Harris;

Lodestar Co.;

Witchcraft Co.;

Plaintiff,

v.
Robert SCHAFFER,
Postmaster, New York, New York,
Defendant.

United States District Court S. D. New York.
May 21, 1956.
Milton A. Bass, New York City, for plaintiff.
Paul W. Williams, U. S. Atty., New York City, for defendant,
William Stackpole, New York City, of counsel.
WEINFELD, District Judge.
---
These are cross motions for summary judgment in an action seeking to enjoin enforcement of a fraud order issued by the Postmaster General which directed that mail addressed to the plaintiff or to various companies which he conducted under trade names be returned to the senders marked "Fraudulent"; and that postal money orders payable to their order be returned to the remitters. Both parties agree that there are no triable issues of fact and that either one or the other is entitled to summary judgment as a matter of law.
The issue posited by these motions requires a review of the administrative record upon which the order was entered.
The proceeding before the Post Office Department was instituted upon a complaint which charged that the plaintiff was conducting a fraudulent scheme for obtaining money through the mails in violation of §§ 259 and 732, 39 U.S.C.A. Following a hearing at which plaintiff was represented by counsel, the basic charges set forth in the complaint were sustained by the Hearing Examiner. Plaintiff filed an administrative appeal but this was unsuccessful and the fraud order was issued.
The complaint upon which the proceeding before the Post Office Department was initiated alleged: that the plaintiff through advertisements in various periodicals induced readers to remit money through the mail for certain "magical or necromantic articles" which included a variety of so-called good luck items and perfumes, by means of false and fraudulent pretenses, representations and promises; that to persons remitting the sum of money stated in the advertisement in the periodical there were sent circulars and brochures calculated and intended to induce the recipient to make further remittances through the mails to the plaintiff; that the statements contained in the advertisements appearing in the periodicals, as well as those contained in the circulars and brochures were false and fraudulent; that they materially misrepresented the true nature of the matter in that the articles, the good luck charms and perfumes, did not provide the means to accomplish the results promised, were of no value therefore and appealed only to the ignorant, superstitious and credulous, who by reason of the representations might rely upon the worthless articles furnished them to accomplish the said results.
The plaintiff denied the charges of fraudulent misrepresentation in the sale of the products.
Crackdown on Black-Owned Newspapers
[In what follows, it is important to note that most of the newspapers carrying the forbidden books and supplies were run by and for the African-American community. This is an example of governmental paternalism in which black practitioners of conjure were labelled "superstitious" (see below) and then "protected" from their own beliefs. It also forced black-owned papers to refuse ad-space to hoodoo suppliers, and thus their ad revenues and profitability were decreased. --cat]
The Post Office inspector who investigated the case was the sole witness for the Government at the hearing. As a result of test correspondence employed by him, it appeared that plaintiff under one or more trade names inserted advertisements for good luck items or perfumes in various issues of publications including
Pittsburgh Courier,
Revealing Romances,
Romance Confessions,
Frolic,
Movie Spotlight,
Life Romances,
Southern Farm and Home,
Baltimore Afro-American,
Washington Afro-American,
New Jersey Afro-American,
Richmond Afro-American,
Philadelphia Afro-American,
Hagerstown Town and Country Almanack,
Secrets, and
The Tri-State Defender.
A person remitting the amount specified in a particular advertisement, received through the mails the item ordered, either the good luck charm or the perfume; the remitter also received from the plaintiff leaflets, circulars and brochures which suggested further remittances for a variety of approximately 20 products, either good luck charms or perfume.
To consider the detailed advertisement with respect to each specific item would unduly extend this opinion. A sampling of items of each class will suffice for the purposes of this motion, although the representation as charged by the postal authorities will be summarized.
When the Christian Cross Was Not Holy
[The Catholic Church belief that a scapular, holy medal, or crucifix is of benefit to the bearer was not challenged, but the idea that a similar cross might be beneficial in a Christian hoodoo context was deemed illegal. This was an obvious impingement on the constitutional right of freedom of religion, but Mr. Gottlieb's call for religious freedom was denied, and one wonders if this was because he was Jewish and his customers were mostly black Protestant Americans. --cat]
A typical advertisement which appeared in the Pittsburgh Courier and other papers of a "Holy Miracle Cross" follows:
"It May Work Miracles For You — Now!
"if you feel Let Down
If life passes you by,
if you can't overcome Evil Spirits,
if you have Bad Luck,
if you Fail in love,
if you feel Let Down
and people are Against you,
Then you need this 24K Gold Plated Holy Miracle Cross, encrusted with beautiful Simulated Diamonds and Fully Enclosed in Glass. Can be used in the secrecy of your home. It is said that people swear by it and Bless the day that they bought it. Don't be afraid to let it work for you. 100% guaranteed or your money back in 7 days. Only $2.00 money with order or $2.50 C.O.D. Get Started on the right road today."
Twinz, 125 Broad Street, N. Y. 4, N. Y.
Free — With Every Order, A Vial Of Holy Miracle Anointing Liquid Full Directions."
A purchaser received not only the "Holy Miracle Cross" but in addition, as already noted, circulars advertising good luck charms and perfumes which in general paralleled the periodical advertisements.
Included in the mailed matter, for example, was a circular for "An extra supply of Holy Miracle Anointing Liquid" to be used "when the Holy Miracle Cross is not near you." In this instance the charge is that the plaintiff falsely and fraudulently represented to the public in substance:
(a) That "if life passes you by, if you can't overcome Evil Spirits, if you have Bad Luck, if you Fail in love, feel Let Down and people are Against you, Then you need this 24K Gold Plated Holy Miracle Cross", that is to say, said cross will enable a remitter to "overcome evil spirits" or "bad luck", or succeed in their love life;
(b) That the "Holy Miracle Anointing Liquid" may "be used when the Holy Miracle Cross is not near you," that is to say, said liquid will enable a remitter to "overcome evil spirits" or "bad luck."
When Luck Was Forbidden
[The next section of the complaint deals with matters of luck or beneficial change. These are deemed illegal because the idea of being lucky is thought to be inherently fraudulent and to use luck while gambling would be to add fraud to a criminal act, since betting was illegal as well. Both traditional spiritual supplies, such as oils, incenses, and powders, are illegal, but so are "Good Luck Roots." This latter was not only an attempt to eliminate culturally traditional concepts of luck, but it was also part of the decades-long war that the Post Office, the Food and Drug Administration, and large laboratory-based pharmaceutical companies have waged against a wide assortment of plants in an attempt to outlaw growing, harvesting, or using them. --cat]
Another item advertised was "Fast Luck Brand Incense" as follows:
"Numbers come out in the ashes. Amazing. Amusing. Astounding. Fast Luck brand Incense This is the best grade Incense obtainable anywhere for this purpose in U S A. Only Lucky John offers such high quality for only $5.00 a Full Pound. Usually sells for up to $15.00. Remember only $5.00 Full Pound cash or C O D plus postage."
Incense Burner Free if you order right away we will send you absolutely Free a beautiful Incense Burner recently imported from mystic Japan. All guaranteed or money back. Order No. P 31."
Here it was charged that the advertisement falsely represented "That Fast Luck Brand Incense" will reveal "Numbers" which will enable remitters to have "fast luck". In the instance of other good luck items, which need not be set forth at length here, statements in the text of the advertisement were alleged to constitute the false representations as follows:
That
if you feel Let Down
Hemmed In by Bad Luck that sticks to you
think that people are Bedeviling You,
feel the need of a Helping Hand against the Forces of Evil,
then you need "Genuine Rhodium Plated Holy Miracle Cross", that is to say, said cross will work "Miracles" by favorably resolving such conditions for a remitter.
That "Good Luck" roots are
"carried for Good Luck in Love, Games of Chance, Money Affairs
and to ward off alleged Bad Luck and evil things called jinxes, crossed conditions, etc.",
that is to say, said roots will accomplish the same results for a remitter.
When Prayer Was Against the Law
[Now the charges mount and grow. Not only is a crucifix illegal, but a book that advocates Jewish, Christian, New Thought, and Spiritualist prayer is forbidden to be sent through the mails. The United States Post Office herewith declared that prayer is not effective for any purpose. What is so amazing is that at the time, the targets were a Jewish distributor (Henry B. Gottlieb) and a Jewish author (Mikhail Strabo, whose actual name was Sydney J. Rosenfeld Steiner) and their African-American audience, as indicated by the black-owned newspapers in which Gottlieb's ads ran. To provide context, white Christians were allowed to mail books on prayer at will, without ever being harassed. --cat]

That the "Magic Formula for Successful Prayer" [by Mikhail Strabo, a pseudonym of Sydney J. Rosenfeld Steiner] tells of "Health and Success through prayer
for obtaining work through prayer
for money through prayer, for influencing others through prayer",
that is to say, said "formula" will enable a remitter to be healthier and successful, to find work, to obtain money or to influence other people.
That "Lodestones" are carried for
"the things a person wants — money, Love, Luck" or to
"drive away Evil",
that is to say, said lodestones will enable a remitter to accomplish the same results.
When Numerology Was Censored
[Were my revised and expanded edition of "The Secret of Numbers Revealed" by Godfrey Spencer (a pseudonym of the pseudonymous plagiarist Lewis de Claremont) to have been published in 1956, i would have been banned from selling it by mail or online. Dr. Roy Page Walton's original edition, written and published in 1913, and sold to a primarily white readership, was never banned from the mails. --cat]

That the book "The Secret of Numbers Revealed" [by Godfrey Spencer] tells
"how numbers govern Love, Success, Money, Luck",
that is to say, said book will enable remitters to govern love, success, money and luck.
That the "[unnamed] Dream Book" is an
"Amazing book that might fulfill your desires", and
will reveal "lucky and unlucky days",
that is to say, it will directly reveal for a remitter "things you need to know about your work, making money, Home and Love affairs", and reveal what days a remitter will be lucky and what days he will be unlucky.
That the "Lucky Whamie Hand Charm" is "said to
"bring Luck,
Protection from Evil,
Confuses and Baffles Enemies",
that is to say, it will accomplish the same results for a remitter.
[The word "Whamie," usually spelled Whammy," refers to the evil eye, a world-wide folk belief. See "Terrors of the Evil Eye Exposed" by Henri Gamache (Anne Fleitman), revised, expanded, and edited by catherine yronwode and Dr. Jeremy Weiss, for samples of mojo hands and hand-shaped charms used to avert the whammy. --cat]
When Spiritual Supplies Were Confiscated
[Now the charges get to the heart of the matter, the illegality of spiritual supplies used in the practice of rootwork or conjure. The products in the first group were among the most popular, manufactured by companies like Oracle Products, Famous Products, Lucky Heart, La Clyde Laboratories, and others, and by small-time makers throughout the nation. --cat]
That
"Success Brand Incense" will bring success;
"Money Drawing Brand Incense" will draw money;
"Fast Luck Brand Oil" will bring fast luck;
"Money Drawing Brand Oil" will draw money;
"Uncrossing Brand Powder" will ward off evil spirits;
"Success Brand Powder" will bring success;
"Fast Luck Brand Powder" will bring fast luck for remitters.
[The following extensive list of magical perfumes is unique to this supplier, and it is worthwhile to point out that Henry B. Gottlieb was a specialty perfumer, for one of his company names, as noted in the charges against him, was Perfume House. --cat]
Finally, in the instance of the perfumes, the advertisements and circulars contain the following [and] the Government contends that the false and fraudulent representations consisted of the following:
That "Desire" perfume will enable a remitter to "control men".
That "Hour of Fate" perfume can "make men stand up and look twice for the moment supreme, for conquest and domination", that is to say, said perfume will enable a remitter to dominate and control men.
That "Casbah" perfume "gives you command of Romance", that is to say, said perfume will enable a remitter to control a romance with any man.
That "Volcano" perfume "may very well make passion come out into the open with you and him", that is to say, said perfume will enable a remitter to experience passionate desires with any man she shall select.
That any woman who uses "Witchcraft" perfume will be "desired" and a "few drops" will give her "control of love" of any man she selects, and will cause men to follow her, said representations being made without qualification.
That "you can be on the winning side with Wheel of Luck perfume always", that is to say, "Wheel of Luck" perfume will enable remitters to always win in "Love, Affection and Desire of the one you want".
That "Love Time" perfume is the "tie that binds and brings kindred spirits together", that is to say, said perfume will bind together two persons of kindred spirit.
That "Nirvana" perfume will make a man "stay close to you", that is to say, said perfume will enable a remitter to keep any man she chooses to stay close to her.
That "Queen of Hearts Love Perfume" will enable a remitter to "Command" and "bend to your wish" any man desired.
That "Command" perfume will "make men obey you", that is to say, said perfume will enable a remitter to "make men obey *every command".
That "Delilah's Control" perfume "helps you (remitters) control men", or "Attract Men to you and Bend them to your will."
That "Devil's Secret" perfume was "used to charm a husband away from a wife or a sweetheart away from his lover's arms", that is to say, said perfume will accomplish the same results for a remitter.
That "Frenzy" perfume "Commands and Men obey", that is to say, said perfume will enable remitters to make men obey them.
That "Armour" perfume has "Power" which can be used to "Make Him Marry You", that is to say, said perfume will enable a remitter to make a man marry her.
That "Blue Desire" perfume will "drive him into your embrace forever and ever" that is to say, said perfume will enable a remitter to "influence" a man to love remitter "only".
That "Friendly Talk" perfume will "help bring *Success and a True Lover" for a remitter.
That "Capture" perfume will enable remitters to "Capture" a man's "love".
That "Command", "Delilah's Control", "Frenzy", "Armour", "Blue Desire", "Devil's Mystery", "Capture", and "Friendly Talk" perfumes will enable remitters to "Conquer" or "Overpower Men".
When Conjure Became Contraband
[After the list of specific items for sale, the wrap-up to the Post Office's defense is a monument to conservatism that exempts white religion from scrutiny but considers Jewish or black Christianity "false" and black culture "fraudulent." --cat]
The Hearing Examiner concluded — indeed he found it was an inescapable conclusion — that the advertisements, sales literature and catalog considered as a whole, in substance and effect made the false and fraudulent representations, as charged in the Post Office complaint.
On this motion to enjoin enforcement of the fraud order, the plaintiff contends that both substantive and procedural errors require the vacatur of the order entered by the Postmaster upon the findings of the Hearing Examiner.
The power vested in the Postmaster General "upon evidence satisfactory to him" to deny the use of the mails to those engaged in fraudulent schemes (1) may not be interfered with by the Courts unless the executive has exceeded his authority or is palpably wrong. (2) Even though the Court might well have reached a conclusion contrary to the Postmaster it may not substitute its own views if there is substantial evidence to support his findings of fact. (3) Thus the Court may upset a finding by the Postmaster that the mails are being used in furtherance of a fraudulent scheme only when there is no evidence reasonably to support his conclusions. (4) Against the background of these general principles we consider the plaintiff's contentions on which he relies to enjoin enforcement of the fraud order.
No Intent to Deceive
The basic attack upon the order is that the Government failed to submit substantial evidence of fraud in fact as distinguished from opinion; further, assuming arguendo that the statements contained in the advertising are found to be false, the Government failed to introduce any evidence of an intent to deceive. In advancing this argument plaintiff relies principally upon Reilly v. Pinkus, 338 U.S. 269, 70 S.Ct. 110, 94 L. Ed. 63, which in part held that to sustain a fraud order under the mail statutes it must be established not only that an incorrect statement was made but further that it was made with intent to deceive.
Perfumes Are Common Products
[Exotic and emotionally descriptive names for perfumes were the norm during the 20th century. Fragrances like "Joy," "Taboo," "My Sin," and more were sold through the mails mail without restraint -- but the Post Office charged that the names and lore of Gottlieb's perfumes, such as "Casbah" and "Frenzy," were beyond the pale and the goods must be confiscated and destroyed. --cat]
In support of this position the plaintiff urges that perfumes are not mysterious items but common products whose qualities are well-known; that the stressing in the advertisements of romance, love and the alleged captivating power of perfumes over men does not import any such literal reaction by a purchaser.
Further, and somewhat inconsistently, plaintiff argues that the Government failed to introduce any testimony by a chemist or a doctor as to any analysis of their contents and hence there was no basis upon which to establish the falsity of the claim that the perfumes would accomplish the benefits attributed to them.
As to the various lucky pieces or "good luck charms", it is urged that these too are common articles and it is generally known they possess no supernatural or unknown factors and hence none would be misled by the statements contained in the advertisements. In sum, the argument is that the various statements are mere advertising "puffing" as distinguished from representations.
The mail fraud order statutes are aimed at protecting the public against fraudulent schemes — the prevention of future injury to the public. (5) The issue of fraud under these statutes is to be determined "in the light of the effect advertisements would most probably produce on ordinary minds." (6)
An Appeal to the Gullible and the Simple
The advertisements here make patently absurd claims which could only appeal to the superstitious, the ignorant and the gullible — an extreme segment of the community, the members of which clearly do not qualify as possessed of the "ordinary mind". Does the "ordinary mind" represent the lowest common denominator in determining whether the representations are fraudulent and calculated to mislead, thereby excluding consideration of their impact upon other segments of the community? I am of the view that on the issue of the impact of advertising matter upon the public, the fraud order statute is to be given a somewhat broader interpretation than that applied to the obscene mailing law, which invokes criminal penalties. (7) In the latter instance it has been held that the effect upon the average of the community is the determinative factor, and this excludes particular segments. (8) The test there applied is that the alleged objectionable matter "must be considered as a whole, in its effect, not upon any particular class, but upon all those whom it is likely to reach." (9)
In the instance of the mail fraud law, if the evidence establishes that the scheme is directed toward the gullible and the simple, the protection of the statute is not to be denied them even though they do not reach the level of the "ordinary mind". The purpose of the statute is to protect the unwary and unsuspecting as well as the knowledgeable and wordly-wise — those who are "trusting as well as the suspicious". (10) The public includes "that vast multitude "the ignorant, the unthinking and the credulous." (11) The fact that informed and sophisticated persons would readily recognize, laugh off, or even be amused by, obviously false and absurd statements in an advertisement does not detract from their power to deceive the ignorant, gullible and less experienced. (12)
[The bigoted white-supremacist racism evident in this section is shocking. Remember that Gottlieb's prayer book, perfumes, and roots were marketed via African-American owned newspapers to African-American buyers, and then consider what the U.S. Government really meant when it stated that "the average of the community" or "all those whom [the ads were] likely to reach" are "superstitious," "ignorant," "unthinking," and "gullible" and "do not reach the level of the 'ordinary mind.'" --cat]
Claims of a Preposterous Character
The plaintiff's contention that no witness was called to demonstrate the falsity of the various statements contained in the advertisements, circulars and brochures for the good luck charms or the perfumes requires little comment. The short answer is that where claims are completely opposed to common knowledge their falsity may be inferred from their preposterous character. Triers of fact, whether courts, juries or administrators, do not require proof of the improbable and they may apply common knowledge and experience with respect to matters. (13)
There is direct authority for holding that with respect to the so-called good luck charms and items, and in particular the incense advertisement, the statements appearing therein are misrepresentations. In Cates v. Haderlein, 7 Cir., 189 F.2d 369, 372-373, (14) the Court considered claims made by the advertiser as to ordinary incense and its use in connection with numbers. The incense was described as "amazing" and the lucky number tablets were credited with bringing "good luck", "cheer" and "good fortune" to the user. The Court there upheld the Postmaster's finding that the statements materially misrepresented the value of the incense, its efficacy, and the benefits to be derived from its use. Despite a disavowal in the advertisement of any purpose to make supernatural claims for incense, the Court stated: "Appellant went much further in his advertisements and circulars than to offer his incense, as he contends, for what it was, that is, ordinary commercial incense. His sales efforts were predicated upon the use of his incense as a luck-changing medium. His advertisements were designed to prey upon the superstitious beliefs of ignorant people."
In the instant case the statements contained in the advertising material for the incense bear remarkable similarity to those considered in the Cates case.
While it may well be that some of the statements in the perfume advertisements treated separately could be classified as mere sales puffing, it would be unrealistic to consider them in vacuo; they must be considered as part of the scheme of advertising literature directed to the gullible group which was the object of the plaintiff's campaign. particularly so since they were interlarded with a number of the good luck items. And the circumstance that an isolated sentence here and there of an advertisement may be literally true does not preclude a finding of fraud or of an intent to deceive. (15) The hearing officer properly determined that it was important to consider the plaintiff's periodical advertisements, advertising literature and catalog as a whole and within their natural format.
Claims of Supernatural or Magical Powers
The advertisements taken in their entirety and in context contain statements that said products possess supernatural or magical powers. The claims, to cite but a few examples, that a cross will enable a remitter "to overcome evil spirits"; that perfumes will enable a remitter to "make men obey" every command; or "make a man marry" her; that lodestones will enable remitters to obtain "money, love, luck" or "drive away evil"; or that charms will bring "luck, protection from evil", are completely opposed to universal experience. The hearing examiner found it "impossible to escape the conclusion, when [plaintiff's] advertisements, sales literature and catalog are examined as a whole that they are making in substance and effect the advertising representations charged in the complaint. Nor do the disclaimers inserted inconspicuously in the sales literature, unsay what is said elsewhere to make the sales propaganda appeal to the superstitious and the ignorant".
The very advertisements furnish sufficient evidence to support this finding and there is no basis upon which to overrule it.
An Appeal to a Susceptible and Easily Influenced Group
[Here the court descends into pure racism. Because the conjure products, the perfumes, the book of prayer, and the holy cross were advertised in black-owned newspapers, the judge stated that "The type of publication in which the advertisements were inserted [made an] obvious appeal to a susceptible and easily influenced group," namely black people. This was in 1956, as the work of the Civil Rights Movement was under fire from white segregationists everywhere. Racism was the law, and paternalism was one of its foundational precepts. --cat]
The plaintiff next contends that there was no substantial proof of an intent to deceive. An intent to deceive is rarely capable of direct proof, since this involves what is in a man's mind. It is hornbook law that this subjective element may be established by circumstantial evidence. It is not any single element segregated from the whole by which the determination is to be made but from the totality of all the acts, conduct and surrounding circumstances and the inferences which may reasonably be drawn from a combination of acts and circumstances. (16) The type of publication in which the advertisements were inserted with their obvious appeal to a susceptible and easily influenced group, the nature of the advertisements, their combination and use in connection with other advertising media issued by the plaintiff, the focus of the advertising campaign, are all relevant on the issue.
Also, it is not without interest that the Supreme Court has held "an intent to deceive might be inferred from the universality of scientific belief that advertising representations are wholly unsupportable." (17) In this instance the claimed representations defy universality of experience. The hearing officer found the plaintiff's claims "so preposterous and opposed to common knowledge and experience as to carry within themselves, without more, evidence of their falsity." On this record it cannot be said there was no substantial evidence to support the finding so made by the examiner.
Such authorities as Reilly v. Pinkus (18) and American School of Magnetic Healing v. McAnnulty, (19) upon which plaintiff places heavy reliance, do not support his position and are readily distinguishable upon the facts. (20)
The holding of the Reilly case is that where there is a genuine dispute as to the efficacy of the curative effects of a remedy and where reliable scientific experience has not yet set the issue at rest, the matter is still in the opinion stage, and affords no basis for a fact determination as to whether a false representation has been made. However, not every conflict of medical or scientific opinion bars a finding of fraud. This is made crystal clear by the Court in its discussion of the McAnnulty case: "We do not understand or accept it as prescribing an inexorable rule that automatically bars reliance of the fact-finding tribunal upon informed medical judgment every time medical witnesses can be produced who blindly adhere to a curative technique thoroughly discredited by reliable scientific experiences." (21)
It is significant that notwithstanding the Court found medical opinion was in a state of flux, it held that the advertising taken as a whole contained misrepresentations of plaintiff's product which "went beyond permissible 'puffing' of a seller's wares; they were material representations on which credulous persons, eager to reduce, were entitled to rely". (22) But because plaintiff had been denied an opportunity to cross-examine a Government witness on the issue of intent to deceive, the Court affirmed the judgment which reversed the fraud order although, again significantly, the affirmance was without prejudice to a re-opening of the proceeding to permit the taking of additional testimony at the discretion of the Postmaster General.
No Witnesses Allowed in Court
There remains for consideration the further attack made upon the order based upon alleged procedural errors. Plaintiff applied for the removal of the proceedings from Washington, D. C., to New York City where he resides. (23) The basis of his application was a claimed serious financial burden if plaintiff and his three proposed witnesses were required to attend in Washington, D. C. The witnesses, it was stated, would testify with respect to the truth or falsity of the representations made in the advertisements. The application was denied because of failure to comply with the Post Office Department rule requiring a statement outlining the evidence to be offered or the relevancy thereof and further on the ground that the proposed testimony of the "expert" witnesses amounted to a proffer of conclusions and ultimate facts which were within the province of the Hearing Examiner. There was nothing of a scientific or technical nature in any of the statements contained in the advertisements which required "expert" testimony. No witness was called by the Government to testify as to the truth or falsity of the representation and as noted above, the finding was made by the Hearing Examiner solely upon the exhibits which were offered in evidence; (24) further he found that the statements contained in the advertising required no interpretation. Under the circumstances, the refusal to hear an "expert" witness, who subsequently did appear at the hearing in Washington, was not error.
Equally without substance is the claim of financial hardship because of the refusal to remove the proceedings to New York and so result in a denial of due process. The proximity of New York City to Washington, D. C., the easy facility of travel, the comparatively slight cost of transportation, presented no real inconvenience or hardship to plaintiff in the presentation of his defense. It was shown that plaintiff was engaged in the particular business which led to the current proceeding for seven years and received an average of 150 letters a day. The volume and duration of his activities repels any suggestion of undue financial burden.
No Evidence Allowed in Court
Finally, plaintiff contends material error was committed in refusing to permit the introduction of proffered exhibits which portrayed advertisements of perfumes by other concerns and also a "lucky four leaf clover", "a rabbit's foot" and a newspaper advertisement for a so-called Aladdin's Lamp. These were not relevant to the issues. They neither tended to prove nor disprove the basic charges in the instant proceeding. That others were engaged in alleged similar violations of law did not grant immunity to one who is charged with a specific violation. (25) There was no error in the exclusion of the proffered testimony or exhibits.
The Decision is Upheld
The defendant's motion for summary judgment is granted and the cross motion of the plaintiff is denied.
Settle order on notice.
---
Footnotes
1. 39 U.S.C.A. §§ 259, 732.
2. Public Clearing House v. Coyne, 194 U.S. 497, 509, 24 S.Ct. 789, 48 L.Ed. 1092; Bates & Guild Co. v. Payne, 194 U.S. 106, 109, 24 S.Ct. 595, 48 L.Ed. 894.
3. Leach v. Carlile, 258 U.S. 138, 139, 140, 42 S.Ct. 227, 66 L.Ed. 511.
4. National Conference on Legalizing Lotteries, Inc., v. Farley, 68 App.D.C. 319, 96 F.2d 861, 863, certiorari denied 305 U.S. 624, 59 S.Ct. 85, 83 L.Ed. 399; Putnam v. Morgan, C.C.S.D.N.Y., 172 F. 450.
5. Donaldson v. Read Magazine, Inc., 333 U.S. 178, 184, 68 S.Ct. 591, 92 L.Ed. 628.
6. Id., 333 U.S. at page 189, 68 S.Ct. at page 597.
7. 18 U.S.C. § 1461.
8. Burstein v. United States, 9 Cir., 178 F.2d 665.
9. Parmelee v. United States, 72 App.D.C. 203, 113 F.2d 729, 731.
10. Federal Trade Commission v. Standard Education Society, 302 U.S. 112, 116, 58 S.Ct. 113, 115, 82 L.Ed. 141; see also Florence Mfg. Co. v. J. C. Dowd & Co., 2 Cir., 178 F. 73.
11. Charles of the Ritz Distributors Corporation v. Federal Trade Commission, 2 Cir., 143 F.2d 676, 679.
12. Cf. Donaldson v. Read Magazine, Inc., 333 U.S. 178, 189, 68 S.Ct. 591, 92 L.Ed. 628; Federal Trade Commission v. Standard Education Society, 302 U.S. 112, 58 S.Ct. 113, 82 L.Ed. 141.
13. Cf. Quock Ting v. United States, 140 U.S. 417, 11 S.Ct. 733, 35 L.Ed. 501; Maners v. Ahlfeldt, 8 Cir., 59 F.2d 938, 939; United States v. Ried, D.C., 42 F. 134; Henderson v. United States, 9 Cir., 143 F.2d 681; Carpinelli v. Reading Co., 306 Pa. 80, 158 A. 867.
14. Reversed on other grounds, 342 U.S. 804, 72 S.Ct. 47, 96 L.Ed. 609.
15. Cf. Donaldson v. Read Magazine, Inc., 333 U.S. 178, 188, 68 S.Ct. 591, 92 L. Ed. 628.
16. Cf. United States v. Stoehr, D.C.M.D. Pa., 100 F.Supp. 143, 163, affirmed 3 Cir., 196 F.2d 276, 33 A.L.R.2d 836, certiorari denied 344 U.S. 826, 73 S.Ct. 28, 97 L.Ed. 643.
17. Reilly v. Pinkus, 338 U.S. 269, 276, 70 S.Ct. 110, 114, 94 L.Ed. 63.
18. Ibid.
19. 187 U.S. 94, 23 S.Ct. 33, 47 L.Ed. 90.
20. See also U. S. Nature Products Corp. v. Schaffer, D.C.S.D.N.Y., 125 F.Supp. 374 (which involved a product whose medical value appeared to be in genuine dispute and hence an opinion matter).
21. 338 U.S. 269, 274, 70 S.Ct. 110, 113.
22. Ibid.
23. A procedure established (Rules of the Post Office Department, § 150.414) to meet the requirements of the Administrative Procedure Act, § 5(a), 5 U.S.C.A. § 1004(a).
24. Cf. U. S. Industrial Chemicals, Inc., v. Carbide & Carbon Chemicals Corp., 315 U.S. 668, 678, 62 S.Ct. 839, 86 L.Ed. 1105; Wisconsin Alumni Research Foundation v. George A. Breon & Co., 8 Cir., 85 F.2d 166, 171, certiorari denied 299 U.S. 598, 57 S.Ct. 191, 81 L.Ed. 441: "Where the meaning of certain terms or the ascertainment of the ingredients of certain products presents nothing technical, expert testimony is inadmissible in explanation."
25. United States v. Levy, 7 Cir., 138 F.2d 429, 433.